Simpson alum, adjunct professor Nate Boulton suspends campaign amidst harassment allegations
INDIANOLA, Iowa—After three women accused him of sexual misconduct, state senator and Democratic gubernatorial candidate, Nate Boulton, suspended his campaign on Thursday.
"Today, I am suspending my campaign for governor. I want to thank all my supporters for their hard work this past year," Boulton said in a tweet posted that morning. He also attached a copy of a full statement regarding the end of his campaign on the tweet: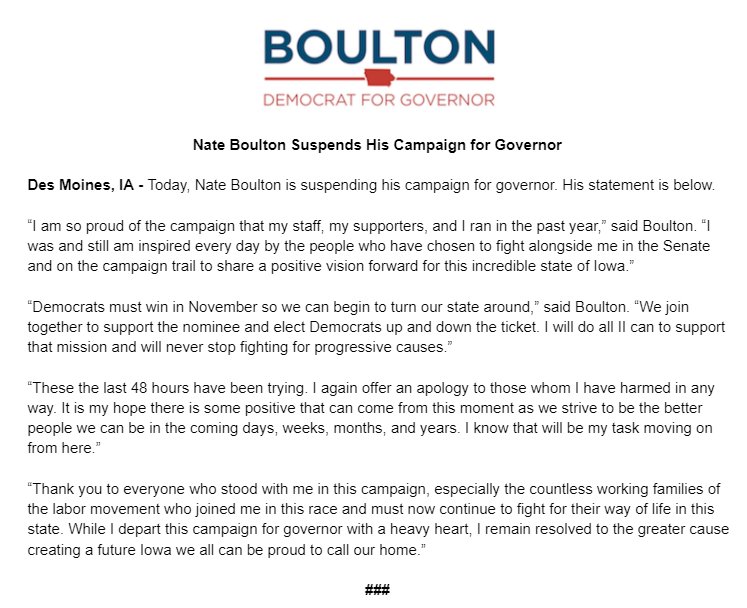 Boulton, who graduated from Simpson in 2002, has worked occasionally as an adjunct professor at the college.
In an email sent to Simpson staff and faculty on May 24, President Jay Simmons said: "Mr. Boulton has been an adjunct professor for Simpson College since 2010, periodically teaching Business Law classes. The last time he taught a class for Simpson was Sport Law in the Fall of 2016. He is not contracted to teach any additional classes for Simpson in the future."
Later in the email, Simmons stated, "To our knowledge, there have been no complaints from students or faculty about Nate Boulton's conduct while he was serving as an adjunct professor."
As faculty and staff learned about the news, many were saddened and shocked by the accusations made against Boulton.
"I was certainly surprised and disappointed as the allegations surfaced," Simmons said in a separate email to The Simpsonian.
He also said whether or not the college will maintain ties with Boulton in the future, "will be discussed internally."
While a student at Simpson, Boulton took political science classes taught by Professor John Epperson, who was also Boulton's academic adviser.
"From the start he was a very impressive student," said Epperson in an email to The Simpsonian. "He is very smart and it was clear even then that he had political ambitions and he was very likely to be successful in those endeavors."
Epperson and others saw Boulton's potential to be a successful politician in Iowa.
"His fellow students and I often joked that he was going to be governor one day (except it wasn't a joke—I thought he might do it)," Epperson said.
Epperson said he was saddened to hear new of the allegations against Boulton, and that Boulton had no choice but to drop out of the race.
"I had never seen such behavior from Nate, and it seems to me it is out of character for him," he said. "At least with the most recent incident, alcohol seems to be involved, which should be a warning to everyone."
President of Simpson College Democrats, junior Abby Schulte, said, "In my opinion, sexual misconduct or harassment should never be tolerated."
Schulte said she was among the members of the College and Young Democrats of Iowa's executive board who called for Boulton to withdraw from the gubernatorial race and also resign from the Iowa Senate.
After news broke that Boulton suspended his campaign for governor, Iowa Senate Minority Leader Janet Petersen issued a news release saying: "Sexual harassment is unacceptable whether it occurs in a social or professional setting. What we have learned in the last 24 hours makes it clear to me that Senator Boulton should also resign his position in the Iowa Senate."
The statement concludes, "If he chooses not to do so, I will support a full, independent investigation into allegations against him."
At this time, however, Boulton has not announced a decision regarding his future in the Iowa Senate.
Troy Price, chair of the Iowa Democratic Party (IDP), said in a statement regarding Boulton that the IDP also supports, "a full and thorough investigation by the Iowa Senate into this matter."
"I admire those who had the courage to step forward, and I believe Senator Boulton did the right thing by suspending his campaign," Price said in the statement. "We hope that he will prioritize the values of the Iowa Democratic Party, and every Democrat we represent, as he makes his decision about his future."
While the allegations surprised many people and made them disappointed in Boulton, Schulte said she believes the issue comes down to "supporting victims of inappropriate behavior and speaking up against those who have hurt them."
"I applaud and support these women for their bravery," Schulte said, adding, "I can only hope that some good will come out of this situation in the form of setting an example for the future of what will not be tolerated."